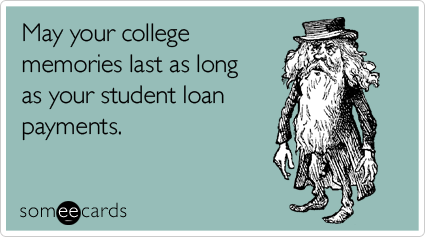 That is the number 1 question I get when talking to friends, family and acquaintances anymore. It's a valid question and good conversation starter. Right now my answer is a cheery smile, a small laugh and... "well, I've gotta graduate first!" I may be laughing it off, but as the time ticks ever closer - and my bank account drops lower and lower - finding a job after graduation is on my mind.
Please indulge me in a small rant. As we are all well aware, the job market sucks right now. It has for the last two years. When I started college, recent graduates were turning DOWN job offers. As of now, only 2 of the 40 people in my class currently have full time jobs post graduation. That is 1/20th of my class - the soon to be graduates of one the
one of the best programs
in the country.
DesignIntelligence consistently ranks UC's program high because of the co-op program, which gives students paid professional experience working in the field, and helps to build resumes and occasionally turns into full time positions down the road. We're all graduating with 18 months of paid professional experience under our belts. In five years, I've worked at three well known and well respected architecture firms in the Cincinnati area. I've done free lance consulting and design work. I started the student chapter of
IIDA
at UC. I'm a writer. I volunteer. On top of all that, I've got the knowledge and skill set using cutting edge technology for my trade, and I'm good at it. I'm creative and passionate, and I am itching to use my experience and talents at a place that will help me to grow, where I can do amazing things.
Under normal circumstances, these qualifications would surely get my foot in the door somewhere. The one thing my classmates and I don't have right now is multiple years of experience. And unfortunately, with so many professionals in the architecture world being laid off, experience is the key that is opening doors. Nearly all the open positions I've researched are asking for registered designers with 5-8 years of experience or more. Employers know these people are out there, and they can afford to be picky.
This puts my class in a quandary.
We can't get a job without experience, but we can't get experience without a job.
It's a frustrating circle. These people who have been laid off, at least they have unemployment to fall back on. I am graduating with nothing but the promise of student loans coming due. Not only that, but there are professionals being laid off who don't want gaps in their resume, so they are applying for (and getting)
unpaid internships
. This sets a terrible example for firms, who then get the impression they can "hire" workers, have them do the same amount of work as a full time employee, and reap the benefits for free.
Everyone says that Gen Y suffers from a
sense of entitlement
, that we feel we don't have to work for what we're given, and that we don't know how to handle rejection. From March 2009 to September 2009, I applied to nearly 70 firms in the hopes of landing a co-op job for the summer and fall in locations all over the country. I got two interviews and one job.
My fall co-op experience was me doing part free-lance graphic design work and interior consulting, part contract work for a construction firm, and part designing for / managing a condo project in downtown Cincinnati. All of these opportunities I obtained through my personal network, not through the school's co-op program. Rejection and I are on a first name basis, and I'm prepared to face even more of it as I continue my search. This isn't a bad thing, and has made me more resilient and forced me to look way outside the box in terms of gaining experience and making money.
My graduating class has worked unbelievably hard to get where we are right now, and it's going to pay off eventually. I'm confident we're going to do amazing things, and just have to get through this rough time.
So, what AM I doing after graduation? The lease on my house isn't up til September, so hopefully I can get it figured out by then! I will be applying for a part time job in the area and continuing to free lance during the summer while I apply to jobs and continue making connections with potential employers. Every day and every person I meet and connect with is another new opportunity. So, if you hear of anything... please, send it my way!